Take the quiz: "Which American City Are You?"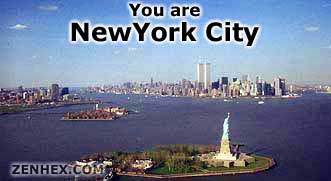 New York
You're competitive, you like to take it straight to the fight. You gotta have it all or die trying.

~+~+~+~+~+~+~+~
as always, do leave a comment for me, telling me what your results were and if another city came "close". my prrrecious Abhi did, even though i initially forgot to request such information-- see? now you know why i married him. ;) he just *knows*... ;) ;) ;)
also, much love to the most perfect freshman ever (my baby cousin at UCLA!) for emailing this to me. snake, indeed.
anyway, quit evading the question...now what city are you again??? :D